Kyle Levesque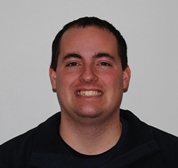 Certifications
Paramedic
Licensed EMS Instructor Coordinator
CPR Instructor
Firefighter II
PALS
ACLS
Kyle's Fire & EMS career started in Danbury, NH when he joined the Danbury Fire Department as an Explorer in 2006. Since becoming involved in Fire & EMS Kyle has become a licensed EMT-Intermediate and trained to the Firefighter II level. In 2011 Kyle achieved certification as a Fire & EMS Instructor, level III. He is a licensed EMS Instructor / Coordinator. Kyle graduated from
Lakes Region Community College
in 2010 with two Associate of Science degrees, one in fire science and one in fire investigation.
Kyle holds a Bachelor of Science degree in Public Service Management from
Granite State College.
Kyle joined the Granite State EMS team in 2012 and is popular amongst the students for his easy-going nature. Kyle works full-time as a Firefighter-Paramedic for the Hudson Fire Department.
Kyle was recognized as the 2014 Granite State EMS Educator of the Year.