About Us
Granite State EMS, in Concord, NH, provides high quality emergency medical education specializing in EMS, CPR & First Aid courses. Granite State EMS was founded in 2010 by a team of NH EMS educators with a desire to bring a higher quality educational experience to the EMS classroom.
Granite State EMS exists solely for the purpose of providing high quality emergency medical education.  We pride our self in offering excellent programs at reasonable costs.  All of our EMS courses are authorized by the NH Bureau of EMS and meet or exceed National EMS Education Standards.
Independently and in partnership with Lakes Region Community College Granite State EMS has offered courses in; Berlin, Concord, Franklin, Hanover, Laconia, and New London.  With an infrastructure designed for growth further outreach is always in mind.  With priority placed on quality it is our goal to continue to provide outstanding EMS courses throughout New Hampshire.
Granite State EMS, LLC
25 Hall Street | Gateway Center | Suite 1B
Concord, NH 03301
Phone: (603) 715-1711 | Fax: (603) 715-1719
Email: gsems@gsems.org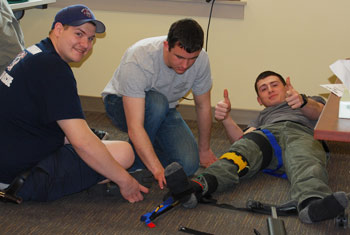 With years of instructional experience and a passion for emergency education, our New Hampshire EMS Educators are known to be the top in their field.